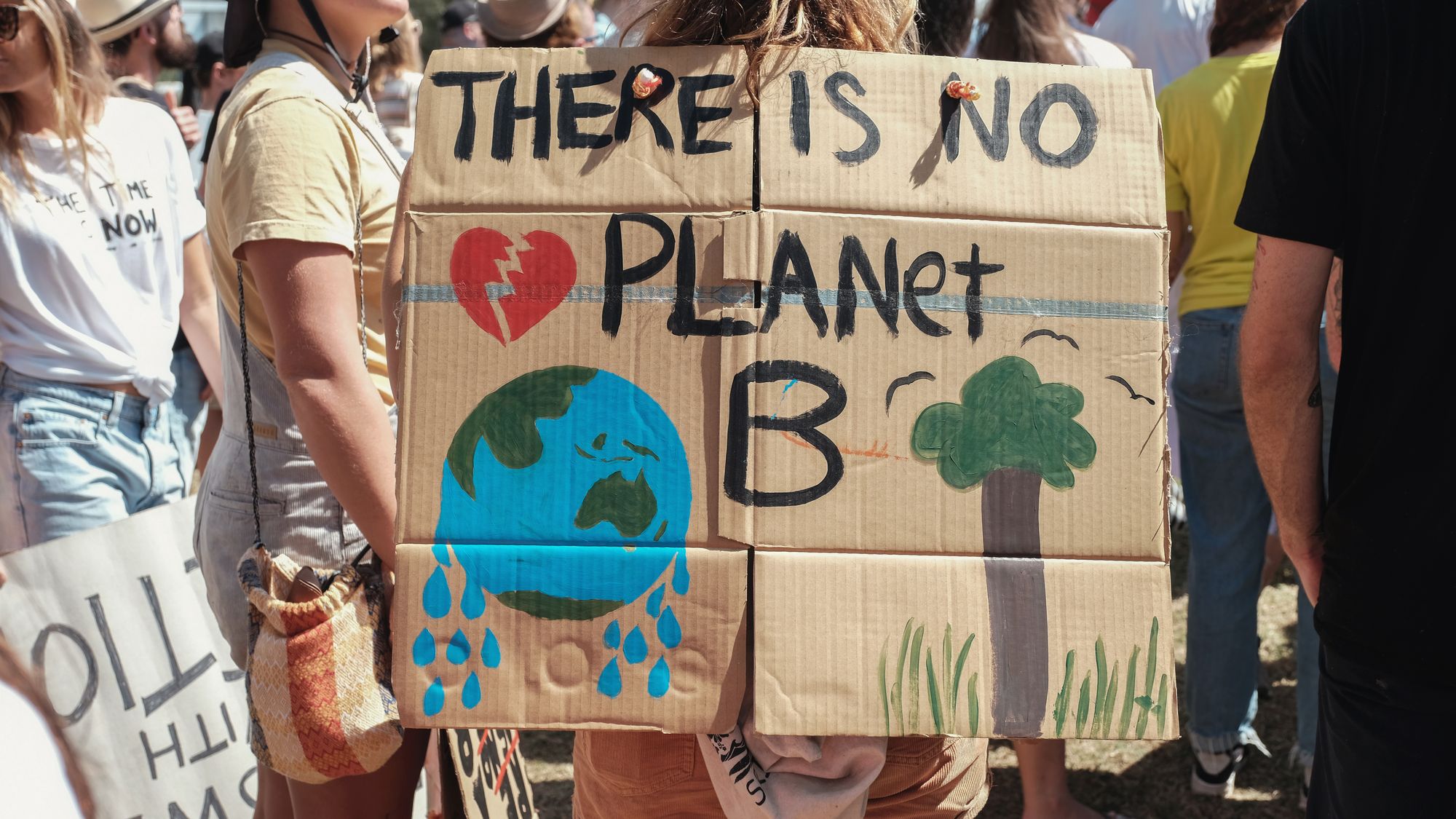 What Climate Thinkers Need to Know About Environmental Justice
The environmental justice movement seeks to address race and class inequities in climate change impact. Climate justice activist Alyssa Dizon shares her career path, and resources to get involved in the movement.
The environmental justice movement seeks to address race and class inequities in climate change impact. Climate justice activist Alyssa Dizon shares her career path, and resources to get involved in the movement.
Outline
We all experience the effects of climate change and environmental emergencies differently. Some communities may be more threatened by flooding, wildfires, drought or air pollution and have different ability to face these threats. Even within one area, some communities are much more vulnerable to climate threats, and racism and classism often impact who faces the most serious environmental hazards.
For Alyssa Dizon, a climate justice activist and member of the Terra community, the definition of environmental justice is "working toward climate-change solutions that address fundamental injustices in society."
Dizon's career transition into environmental justice may spark ideas for others hoping to combine their passions for environmental work and people-oriented missions. Especially as climate change impacts communities all over the globe, humanity needs more people working in environmental justice than ever.

What Is Environmental Justice?
Historically, people in power have positioned dangerous systems and structures disproportionately in or near communities of color, which often overlap with poor communities. The practice continues today, with toxic waste dumps, busy highways, landfills and polluting factories concentrated in areas where people of color live.
The environmental justice movement, led largely by people and communities of color, seeks to address these inequities to ensure that people of all races and classes:
●     Enjoy equal protection from environmental hazards and access to resources like green space and healthy food
●     Have voices in the decisions and regulations about the environments in which they live and work
●     Live in a society that sustains and restores the natural environment

Why Is Environmental Justice Important?
For many people, "environmentalism" may call to mind conservation efforts such as forest preservation or protecting endangered species. But environmentalism is an intersectional web that includes conservation, climate change, preservation of natural resources, sustainability, reduction of pollution, recycling and waste reduction, renewable energy and more. And environmental justice is interwoven with all of them.
"It looks at the injustices involved in the making of the climate crisis and the potential injustices involved in solutions to the climate crisis," Dizon said, and it brings marginalized communities to the center of the work to move toward a more equitable society.

Climate change
Both the effects of climate change and the efforts to mitigate climate change are intimately linked with environmental justice. The effects of climate change, from rising sea levels to increased weather intensity and destruction, are not distributed equally. Poor communities of color often bear the brunt of climate-change-related disasters. That's for a few reasons.
First, these communities tend to be concentrated in low-lying areas that are more susceptible to flooding. Additionally, these communities may be less able to safely and quickly evacuate during dangerous weather events. They may also lack the resources and structural support to deal with climate-related events.
For example, after the severe flooding of Hurricane Harvey, an oil tank belonging to the Valero Refinery that abuts a low-income, predominantly Hispanic neighborhood in Houston, Texas, collapsed. The tank released known carcinogen benzene into the air in an amount that was six times higher than the concentration many scientists consider safe.

Sustainability
A sustainable society is one that supports quality of human life without damaging ecosystems as a result. Sustainability and environmental justice are also inextricably linked. A review of studies by USC's Program on Environmental and Regional Equity found that efforts to reduce income and power inequality lead to increased environmental health across the board.
One study found that income inequality is tied to loss of biodiversity in communities, while another found that countries that are diligent about reducing social inequality also tend to have stronger environmental protection policy, which leads to a less polluted environment for all citizens.

What Environmental and Climate Justice Look Like in Action
Dizon came into climate justice as a practice, a way of life and something she feels very purposeful and mission-driven about through her own lived experience and what she has observed about the world around her.
"My family is from the Philippines, and coming from an immigrant family with ties to the global south made it so I always saw the differences between the way people who have wealth and people who don't experience the world," she said.
But she really connected the dots between climate change and social justice when she was living in New Orleans, working for a startup focused on social justice through pay equality. The Intergovernmental Panel on Climate Change published a report that revealed that humans  had 12 years left to ensure a livable future for the planet.
"I looked around in New Orleans, recognizing that I have neighbors who are incredibly vulnerable to climate change, who will be the first and worst hit by sea level rise," she said. But she also realized that it was an amazing opportunity to come up with climate change solutions that create prosperity for everyone.
"I looked around at my neighbors and thought, 'Man, this place could be the future of coastal resilience,'" she said.
But that future can't come to fruition without centering equality and environmental justice around the world. Dizon realized she could combine her commitment to social justice with environmental action. "I'd always cared about the environment, fairness and justice separately," Dizon said. "But it became clear to me that it was all tied together when I was living in New Orleans."
Armed with this new perspective, she moved to New York City to work at Sidewalk Labs, a startup that aimed to build the urban environment to solve for sustainability challenges while also thinking about affordability and inclusivity.
When the COVID-19 pandemic hit, Dizon helped build a mutual aid network in her Brooklyn neighborhood that has now redistributed over $1 million and brought food to 22,000 people.
"I was really thinking about how I wanted to show up for climate change work," she said. "I wanted it to be in the spirit of the organizing I do, and I wanted it to be with and for the communities I live in."
That's what brought her to her current full-time role, growth product manager at BlocPower, a tech startup focused on decarbonizing building in traditionally underserved communities.

How to Pivot Your Career to Environmental Justice
It can feel difficult to start to orient your life toward environmental justice. But the first step is a simple, small one, which Dizon said came from advice a friend gave her.
"Start where you are," Dizon said. "Look at how climate change power dynamics and forces of systemic oppression are all interwoven in everything. Look at where those dynamics show up in your life."
For example, she looked around New York City and noted that buildings are a main source of carbon emissions in her daily life. Then she asked herself where injustice might lie in the city planning system, which led her to public housing. So now she works on the Green New Deal for Public Housing, which aims to provide carbon-neutral, safe and affordable housing for all, and the Sunrise Movement, which aims to halt climate change while creating quality jobs.
A few resources to start looking for environmental justice connections in your community might include:
●        The Green Jobs Network is a community of environmental and social impact professionals that offers educational resources, newsletters and job postings.
●        The Environmental Protection Agency's environmental justice hub breaks down efforts by region across the country.
●       The Climate Justice Alliance helps communities organize against injustice and build sustainable and equitable communities and lobbies governments and corporations to work toward a better future.
As you research how you can get involved and try to understand the problems and solutions, be sure to engage with a wide array of voices.
"Don't just look at scientific reports—also read from indigenous wisdom, where people have been prophesizing something like the climate crisis for generations and understand a fundamentally different way of relating to the world, each other and the environment."
Some ideas to expand your environmental justice reading list include:
●       UNESCO's Local and Indigenous Knowledge Systems (LINKS)
●       The Global Center for Indigenous Leadership and Lifeways
●       The Indigenous Environmental Network
"Nothing at the scale of the climate crisis has even been solved before," Dizon said. "It's going to require coordinated effort across the world, across classes, across generations and races. And coming together to solve something like that could also open the door to solving a lot of other challenges."

If you're interested in learning more about environmental and climate justice, including justice transitions, nature-based solutions, indigenous climate action and community resilience and adaptation, check out the videos from Terra's Introduction to Climate Justice workshop.
Resources
More like this
Climate change's effects on social enterprise are increasing rapidly, posing new challenges for poverty alleviation efforts. Hear what that means to Jordan Wolken, a recent graduate from Terra.do's Orca cohort and head of the non-profit Bridges for Enterprise.
In today's tech-driven world, there are many ways software jobs can combat climate change; here's our guide to getting started on transitioning your tech career towards climate solutions.
What is biodynamic wine? How do wine careers fit into the world of climate change jobs"? We sat down with organic and biodynamic wine maker Eliza Frey of Frey Wine to find out.